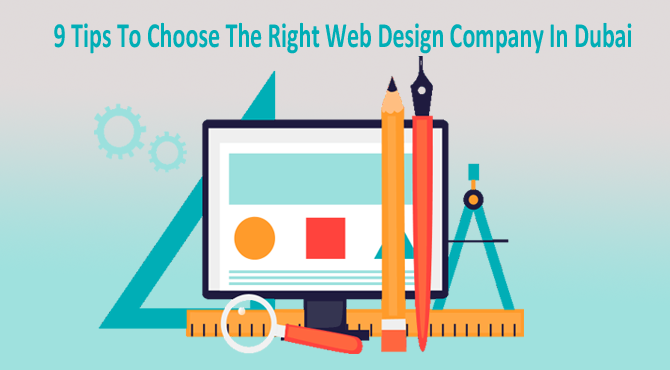 9 Tips To Choose The Right Web Design Company In Delhi
Websites are inevitable for the success of any business in this online era. Websites and online marketing is not the strong suit of many emerging and established entrepreneurs. Hence most of the businesses have to resort to the services of a web design agency to accomplish this task.
Designing a website can be costly; few bucks saved on your website will not do any good for your business in the long run. In fact, you may miss out a lot of potential business opportunities due to the compromises made on your website. To create a website that can add value to your marketing efforts, you will need professional web design services. Choosing a web design company from the millions of search results that appear can be a difficult task. However, you can set your preferences and cut short the list of web design companies delhi to consider, based on these 9 tips.
Here Are Nine Pointers to Follow to Choose the Right Web Design Company:-
1. Take Decisions Based on online Reviews
Online reviews found on sites like Google, Facebook, Yelp etc are less manipulative and give an unbiased opinion of previous customers. Negative reviews can't be removed from these sites, however companies may try to manipulate it by creating their own reviews, but you can easily identify these types of reviews as they generally don't seem natural.
2. Take a Look at Their Work Portfolio
The portfolio of a web design company tells you whether their designs match your taste and whether they will or will not be able to meet your expectation. Hence reviewing work profiles helps give you a fair assessment of what you can expect. You will get a clear picture:
if the website design is well crafted

If the navigation is easier and user friendly

If the designs are fresh
You can be assured that your website is in good hands if the web design company that you choose are proud to show you their robust portfolio.
3. Look at the Clients Served by the Company
Evaluating the list of clients previously worked with by the web design agency is an effective way to assess whether you feel secure to work with them. Their extensive lists of clientele including international clients that they have assisted in the past helps give you an idea of the challenges they would have faced in the project and speaks about their experience in the field.
4. Pricing of the Web Design Service
Web design services delhi are priced differently by different agencies. Since there isn't a fixed price for website design services, you should consider the pricing offered by the company you choose to make sure its within your budget. However, if you are serious about your business and believe that your business website is a valuable source of revenue, then you should not hesitate to partner with premium web design agencies outside your budget.
5. Web Design Solutions Offered
Web design companies of these days come up with a wide range of website-related services. Web design and development have become more diverse with the introduction of design and development platforms which reduces the complexity of developing large websites from scratch. There are numerous CMS (Content Management Systems) platforms like WordPress, Joomla, Drupal etc which adds more flavor to the conventional web design. Then there is eCommerce website designs which is now different from conventional web designs and makes use of platforms like Magento, Shopify etc specifically for eCommerce websites.
A company with only WordPress developers will be inclined to develop your website in WordPress. Look for the specific web design solutions offered by the company and make sure they are providing web design and development services in all major design and development platforms. Some of the major web design solutions include ecommerce web development, wordpress development, Drupal development, magento development, joomla development, php web development, ASP .NET websites, Java development etc.
6. Content Creation Service
Content of the website is often overlooked when you are too focused on overall aesthetics of the website. If your business is based in Dubai, then you must need Arabic version of your website since a good portion of the Arab audience use Arabic while searching for your service. If your website needs Arabic version for each page, and hence approach a web design agency employing Arabic content writers. A good looking website wont be as useful to you with bad content.
7. Proactive Client Support
Client service team should be able to anticipate the issues that may arise while undertaking your web design requirements and address them proactively. The person representing the web design agency must be able to exceed your expectations and build a strong rapport with you. He/she should be able to understand your objectives and coordinate the tasks efficiently.
8. Does the Website Design Follow Basic SEO Guidelines?
Seo expert in dubai has a major role in taking your website to the potential customers looking for products or services offered by your business. A search engine optimized website will act as a lead generation machine for your business. Certain SEO guidelines regarding the website architecture, design and content etc can make your website easily accessible to search engines and users. The web design company you choose must be aware of this and follow the basic SEO guidelines and best practices while designing your website.
9. Check the Related Services Offered by Your Company
While creating a website for the business you will need a range of services to follow up after the website design. You will need to create good content for your web pages; you will need to market the website to reach people looking for products/services offered by your business, you might need to add payment gateways or incorporate e-commerce facilities in your website and you may want to promote your business online through online advertisements and social media channels. If the company you choose for designing your website offers these follow-up services it will be more preferable since they could understand your business objectives better. Resorting to the services of a single company to handle all your online marketing needs makes the marketing effort well-coordinated and executed.