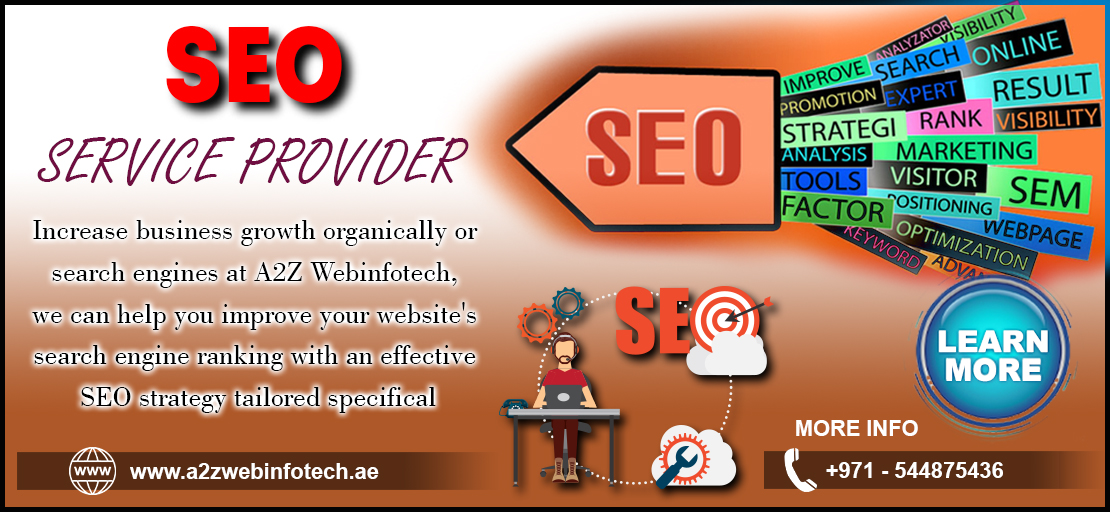 SEO
Search Engine Optimization (SEO) is a powerful digital marketing technique that provides long-term rankings of websites on Search Engine Result Pages. A2z Web Infotech caters to professional organic SEO for online business websites. A2z Web Infotech is India and UAE, based IT Company with multiple branch offices. We offer search optimization services in India and UAE with a global presence. We perform quality On-Page Content Optimization by correcting it and converting it into keyword-rich content according to Google. We continuously monitor Google Analytics and Google Search Console for proper website performance. Online promotion is a notable task that cannot be neglected for startup businesses at least. Search Engine Optimization comprises of two tasks: On-Page SEO and Off-Page SEO. On-Page SEO refers to the website optimization to fine-tune the website while Off-Page Search Engine Optimization refers to the link building with other popular websites to improve the quality of the website and gain more traffic.
Our Best SEO Services employs a unique strategy that carries out a successful SEO campaign to get maximum visibility. We can also fruitfully remove bad backlinks the effect of whose is degrading the website position. We do effective business listings of your services on all major directory sites. SEO favors good quality content and under Off-Page SEO, the website is linked to error-free and quality websites.
We help you in discovering untapped traffic related to your business. SEO copywriting service that we provide is a quite effective technique to achieve a good position on search engine results. SEO Specialists at A2z Web Infotech know well about the current trends in digital marketing services. They have complete knowledge of Google Algorithms and keeps themselves updated.
We strictly follow Google Search Engine Algorithms:
Google Panda –

Content must be of good quality and unique.
Google Penguin – The website must have quality backlinks and must not have spammy links.
Google Hummingbird – Content must bring out the theme of the page.
Google Mobilegeddon – Website must be adaptable to different screens.
Frequently Asked Questions About SEO
WHAT IS SEO?
SEO stands for Search Engine Optimization, an organic process practiced to improve your website's ranking in search engines. SEO provides long-term benefits for your business and offers a high return on investment.
Why does a company need an SEO service?
• SEO is the number one organic source for driving traffic to your website.
• SEO creates a solid foundation for your website that is easily found in search engines.
• You can focus on a specific area, city, region or country.
• With the right SEO strategies, you can beat your competitors.
• Your potential customers can easily find you on search engines, bringing your business one step closer to success.
• You can easily measure or track SEO results.
What are the best SEO packages?
A2z Webinfotech is a leading SEO agency in India that offers various SEO plans for your business. We can also provide you with customized SEO plans for your business. You can contact us for more information.
Can I change my SEO plans?
Yes, you can easily change SEO plans and choose the one that best suits your business. Whether you want to upgrade or downgrade your plan, we have the best plans for you.