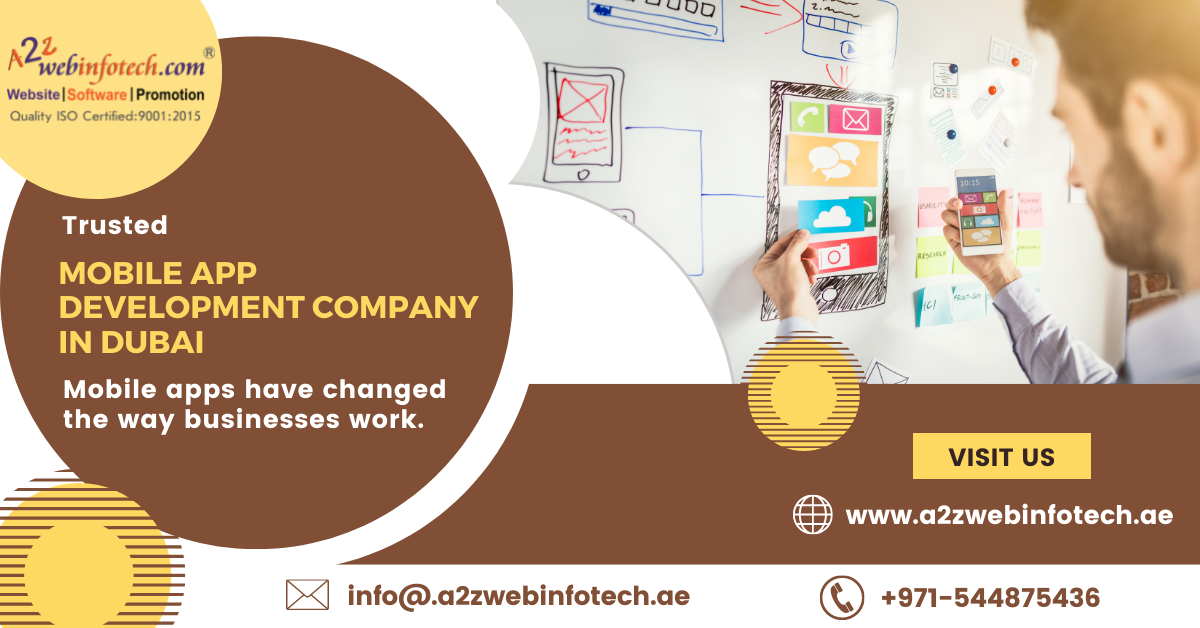 A Mobile App Development Agency in Dubai, trusted by leading brands
In the present business environment, a mobile application is an essential element. But why is it a must-have tool?
Well, the way business is done worldwide has evolved because of mobile applications! A unified and organized platform is also provided through mobile apps. This makes it easy to share data and process information as well.
These apps are really helpful and easy to use. This makes it simple for our valuable consumers to purchase the goods and services they want.
A2z Webinfotech is a renowned Mobile App Development Agency in Dubai. Today's businesses, in our opinion, can benefit greatly from these services. We provides the perfect platform for businesses to keep their clients updated and interested.
Even more, these apps have the power to educate the users and improve brand image. This is the reason why so many businesses from all sectors are making their mobile application
With our broad range of services and experience, we provide you with a variety of choices. We have a team of talented project managers and mobile application developers. They will make every effort to produce high-quality services for you. They truly understand the complexities needed to create the app. It will definitely satisfy all of our customers' requirements.
You can now use digital marketing to reach your target audience. Innovative mobile apps for Android, iOS, and cross-platform can help you connect with people. You can trust in our development services' skills and special availability of the latest technologies for apps.
We are an experienced Mobile App Development Company in Dubai. With our support, you can enjoy the comfort and simplicity of creating the business app of your dreams. Our company provides full-cycle services for developing mobile apps. Planning, designing, combining, and managing are all part of it. We offer complete solutions for developing mobile applications across several sectors.
We have a team of highly experienced ios & android app developers. They work as a unit and help you to accomplish your goals. We are the most trusted Mobile App Development Agency in Dubai.
Create a user-friendly, uncomplicated app to improve the growth of your company. It works with tablets, smartphones, or both. Through these apps, we assist you in reducing the complexity of business activities.
A2z Webinfotech is a well-recognized name for Mobile App Development Company in Dubai. Our real identity speaks for itself, which is reflected in our work. We try to create a sense of trust and goodwill among businesses.