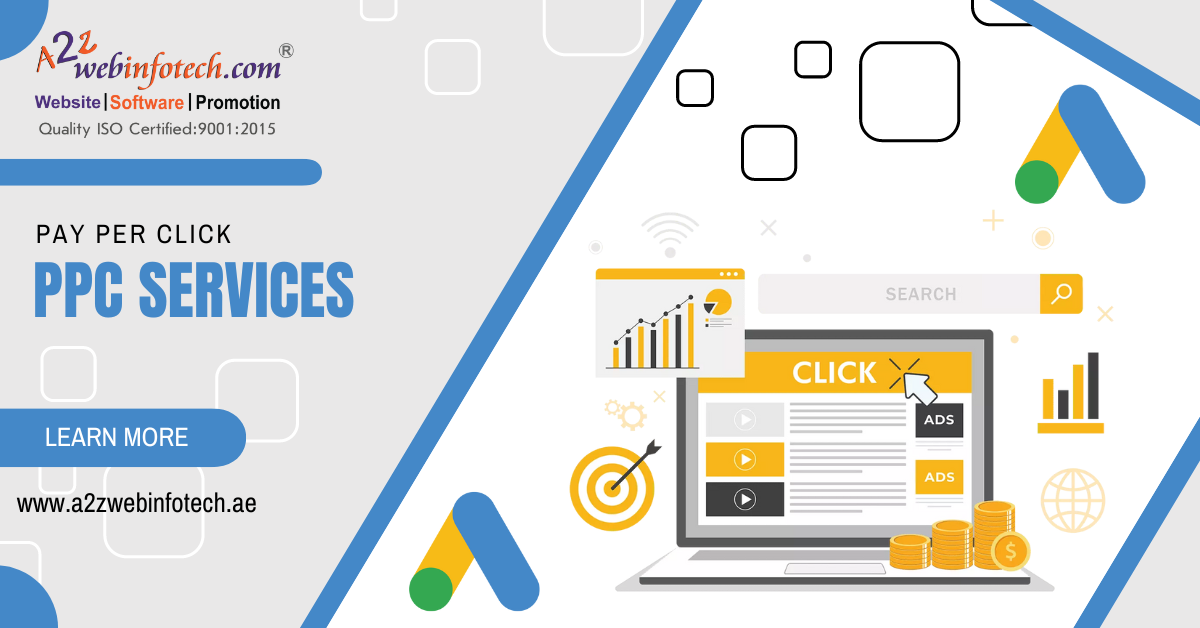 Top Best PPC Services in Dubai
Pay-per-click (PPC) is an online advertising model where publishers make money off advertisers every time an advertisement link is clicked, giving the model its name.
A2z Webinfotech is a prime google partner and therefore offers the best PPC services in Dubai by helping clients generate more website traffic.
You should opt for PPC services in Dubai if you want a higher rank in search engine results, as it offers more control and, subsequently, more money. Something new trends on the internet every day, and it becomes a hassle to reach a wider audience.
PPC Services by A2z Webinfotech
A leading Google ads agency in Dubai, A2z Webinfotech helps optimize your business by utilizing years of experience. We also help with optimizing sales and, in turn, profit. We also supply the best team of professionals for intelligently designed campaigns.
Our experienced professionals perform by conducting extensive keyword research and selecting the best alternative for your wider reach.
We maintain transparency with clients about campaigns and help them check the traffic generated on their profiles, rates, and ROI;
Other Services
A2z Webinfotech also performs the following supplementary PPC services in Dubai:
Display Advertising- We place artistic ads with striking graphics for the customers. Display advertising is an operational form of marketing that uses logos, text, video, photos, or other graphics to convey an advertising message.
Google AdWords Remarketing- We use Google AdWords Remarketing to aim at users who have previously visited your website. This helps develop the personalization and significance of formerly published ads.
Google Shopping Ads- A2z Webinfotech team creates unique ads that help increase your online store sales.
Mobile advertising- Products and services are endorsed in this feature through text messages, banner ads on mobile websites, and display ads in mobile apps and games.
Search Advertising- We also provide paid search engine marketing services, including pay-per-click marketing, search engine marketing, sponsored ads, etc.
Social Media Advertising- We promote your brand on the finest social media platforms. Social media advertising helps increase reach and traffic for a business.
A2z Webinfotech is a Google Ads company in Dubai offers PPC services for all kinds of businesses. We curate personalized packages for our clients centered on their requirements. For further queries, book an appointment and watch your business grow!