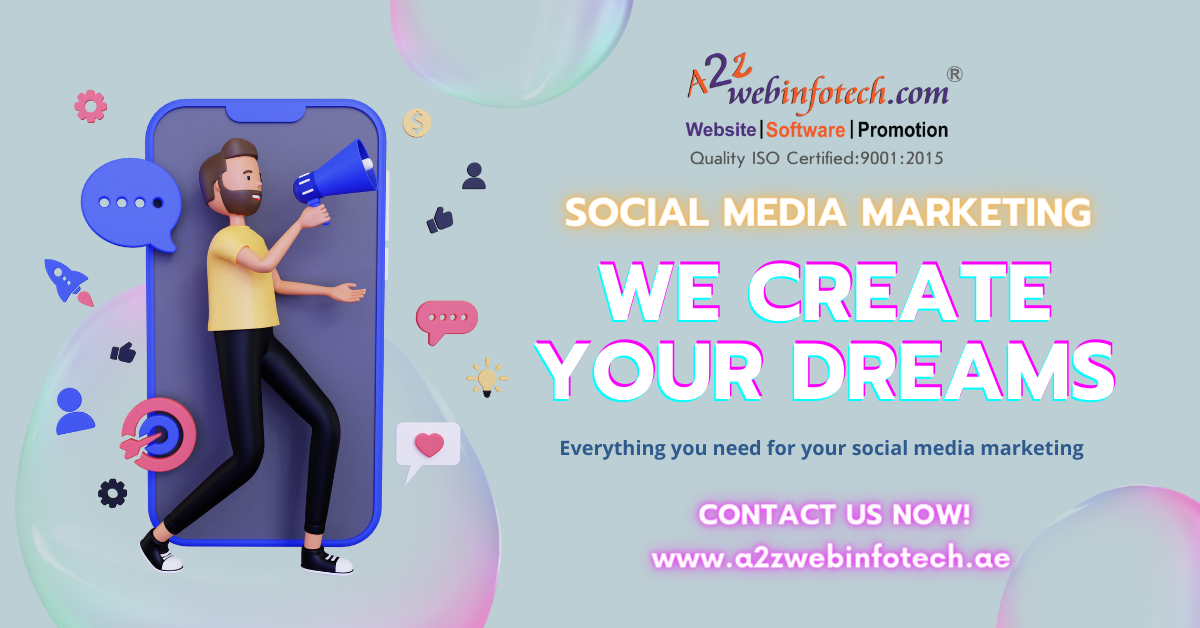 Best Social Media Marketing Company in Dubai
It is no secret how crucial social media is for one's business. A solid social media presence ensures a broader reach and subsequently brings in more customers. However, creating a profile on multiple social media platforms is not enough. These profiles need optimization and marketing to help generate traffic.
A2z Webinfotech offers the best social media marketing Dubai has and also helps you enhance your brand's virtual presence in the global market by applying marketing techniques approved by experts and creating a strong brand identity on different social media platforms such as Facebook, Twitter, LinkedIn, Pinterest, Instagram, etc.
How Does Social Media Marketing Work?
We help you achieve growth in business by:
Managing your brand
Building a relationship between your business and your clients;
Generating traffic on your social media profiles;
Marketing the right content for a wider reach; and
Sharing graphic and engaging posts.
Algorithms keep changing, and it works best when you leave it to the pros. A2z Webinfotech can generate more clients for your business and also retain clients you got without hiring a social media management company.
Social Media Optimization
The terms social media marketing and social media optimization are often interchangeable. Like one optimizes a website through SEO, one has to optimize their social media presence through SMO.
One of the best SMM companies in Dubai, A2z Webinfotech, creates social media posts based on whatever the latest trend is. We further help optimize your social media presence by:
Analyzing the needs of your business;
Planning a social media and content strategy;
Creating graphic-rich designs for multiple social media platforms for your business;
Managing, analyzing, and optimizing the profiles/accounts.
Our position as the best social media marketing agency Dubai houses has solidified with every passing day. We give utmost importance to building trust between our clients and us, keeping things transparent between all parties, practicing punctuality, and further adhering to the schedule. We offer excellent services at reasonable rates and are also open to receiving feedback. What are you waiting for? Book an appointment with the best SMM company in Dubai and watch your business grow like never before.